Voxel Section Editor III

(also known as VXLSE III) is an open source voxel creation and editing tool for Command & Conquer Tiberian Sun and Command & Conquer Red Alert 2 voxel files. Voxels are volumes (3D) of pixels used on certain old games and several scientifical (specially medical) researchs. For VXLSE III, voxel is basically is a 3D matrix of pixels, where each pixel has a colour and a lighting direction, for improved realism. Check Wikipedia for more information on voxels.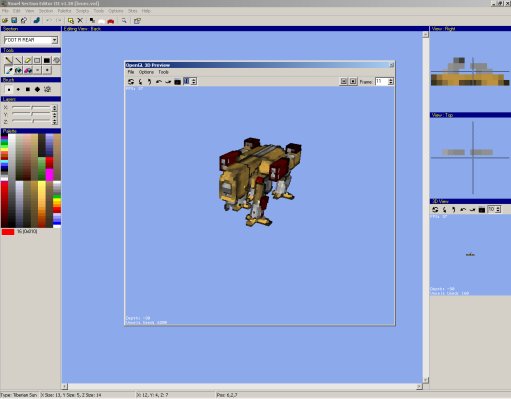 Voxel Section Editor III

is a freeware and ad-free program that comes with the following features:


- Opens, creates and edit .vxl files from Command & Conquer Tiberian Sun and Red Alert 2.
- Real time voxel 3D preview and a 3D preview window, both using OpenGL.
- Runs on Windows 98 or later and also works on WINE (Linux).
- It works with multiples sections per voxel.
- Several basic brush tools, colour replacement tools and blur.
- PalPack support for smart/fast colour replacement.
- Export and load textures done with Photoshop to quickly paint your voxel.
- An exclusive auto-normalizer tool to find the best ilumination for your voxel.
- Flip, Mirror and Nudge your voxel quickly.
- and much more...





Authors:

Will Sutton, Plasmadroid, Koen, Stucuk and Banshee.




The most modern version of this program can be found at the link below:

-> Get the latest Voxel Section Editor III


The classic version can be downloaded at the link below:

-> Download the classic Voxel Section Editor III 1.38 (2.51mb)



Now Voxel Section Editor III has its own SVN:

-> http://svn.ppmsite.com/listing.php?repname=OS%20Voxel%20Tools&path=%2F&sc=1



This tool is a freeware, but if you enjoy it and want to motivate and contribute with its development, feel free to donate money with paypal, credit cards and bank transfer by clicking in the button below:







Make sure you mention your forum nickname. This is crucial. And also, one feature that you'd need. You'll receive a response and if that feature is not viable, you can request another one.